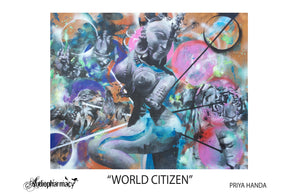 MOMENT - "WORLD CITIZEN" POSTER BY PRIYA HANDA
Regular price
$20.00
$0.00
[widgetic-audio-player id=5af0b6f7ecb2a1ee2c8b4572 autoscale=on width=647 height=284 resize=fill-width]
Each song in the MOMENT Audio Cinema represents a different stage of life.  For each stage, various artists are currently creating artwork based on the concept and story. 
"World Citizen" is a song that recognizes the interconnectedness of all universal beings and things.  "when you are basically the universe, you never were born and you never will die" - Joseph Campbell
The "World Citzen" poster is an 18"x 20" piece by amazing artist, Priya Handa (Oakland).
This poster is enclosed in a protective sleeve for mounting. 
One Love / One tribe.
Visual Artists featured on this project: Mamawisdom1, Martin Travers, SEF, Dee Jae Pa'este, noa-, Jack Eastgate, Suaro Cervantes, Priya Handa, Jaiv1, and Sakima Jairo-Xae.
---
More from this collection