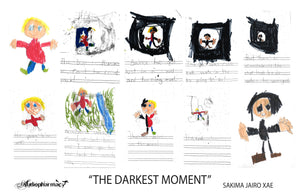 MOMENT - "THE DARKEST MOMENT" POSTER BY SAKIMA JAIRO-XAE (6yo)
Regular price
$20.00
$0.00
Each song on the MOMENT Audio Cinema represents a different stage of life.  For each stage, various artists are currently creating artwork based on the concept and story. 
"The Darkest Moment" is a song that represents the importance of the existence of dark and light within all things.  The yin and yang. The balance.  The song makes reference that it is in our darkest times, that we can most clearly see the light.
Thank you Sakima for the beautiful art.
"The Darkest Moment" poster-print is taken from a hand made book created by our 6 year old son, Sakima Jairo-Xae. The original is made from markers and paper.  He did not receive any suggestions on the book at all and it was his own concept that coincidentally fit perfectly with the song concept.  We are so thankful for his contribution which was submitted in time for the Bay Area album release movie premiere and art show.   The poster for sale is an 18"x 20" piece and is enclosed in a protective sleeve for mounting.  One Love / One tribe.
Visual Artists featured on this project: Mamawisdom1, Martin Travers, SEF, Dee Jae Pa'este, noa-, Jack Eastgate, Suaro Cervantes, Priya Handa, Jaiv1, and Sakima Jairo-Xae.
---
More from this collection