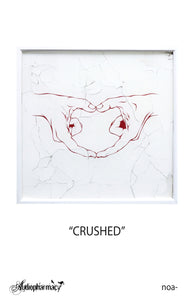 MOMENT - "CRUSHED" POSTER BY noa-
Regular price
$20.00
$0.00
Each song on the MOMENT Audio Cinema represents a different stage of life.  For each stage, various artists are currently creating artwork based on the concept and story. 
"Crushed" is the song after "The Battle."  It is the love song in the Audio Cinema.  Not only "love" in a sense of romance, also "love" in a sense of "love over fear."  "Love" meaning "open" and "Fear" meaning "closed."  Through all the pain and trauma we endure, we tend to become closed and embody fear.  But when we are closed, beautiful opportunity gets shunned away.  It is "Love" that has the power to heal,  but first, there must be trust.  This song is dedicated to my life-partner, Joana "love/speak" Cruz.  And thank you noa- for the beautiful art.
The "Crushed" poster-print is a photo of the original (wood / resin / ceramic / acrylic) piece designed by artist Yasushi "noa-" Matsui (Oakland / Japan).  He first painted on ceramic, smashed it, pieced it back together, then framed and bonded it with resin.  The poster is an 18"x 20" piece and is enclosed in a protective sleeve for mounting.  One Love / One tribe.
Visual Artists featured on this project: Mamawisdom1, Martin Travers, SEF, Dee Jae Pa'este, noa-, Jack Eastgate, Suaro Cervantes, Priya Handa, Jaiv1, and Sakima Jairo-Xae.
---
More from this collection